16 May

Designing with Startups

As a design firm, we've worked with a wide variety of companies, from large enterprises looking to create a new product to very small companies just getting started. By working with several startups at various stages of maturity, we've learned a few things about why our process works.
DESIGN SETS NEW PRODUCTS APART
Strong design has a well-defined ROI.
Allocating budget to design means the product concept is clear from the beginning. This makes early stage companies stand out from their competitors. When companies sacrifice design, they run the risk of being overshadowed by competitors and losing customer approval.
And the initial project is just the beginning. Once an MVP with a strong UI is finalized, the startup gains momentum in their market without having to reconsider the design.
One of our noteworthy projects was with Tripod Education Partners, a Cambridge, MA-based startup. Tripod administers surveys to gather, organize, and report on the student perspectives of K-12 students. We helped design Tripod's data reports for teachers and administrators, as well as an online platform for teachers to personalize and manage their own surveys.
A strong design brands the whole data experience. We considered this idea throughout the project: how can a data experience express a product or company's brand, and also serve as a legitimate path to actionable insights?
With Tripod, the reports needed to handle multiple users and multiple levels of data. One challenge was making the data easy to visualize. Another was making it actionable. We wanted the user to be able to get feedback depending on the results in their report.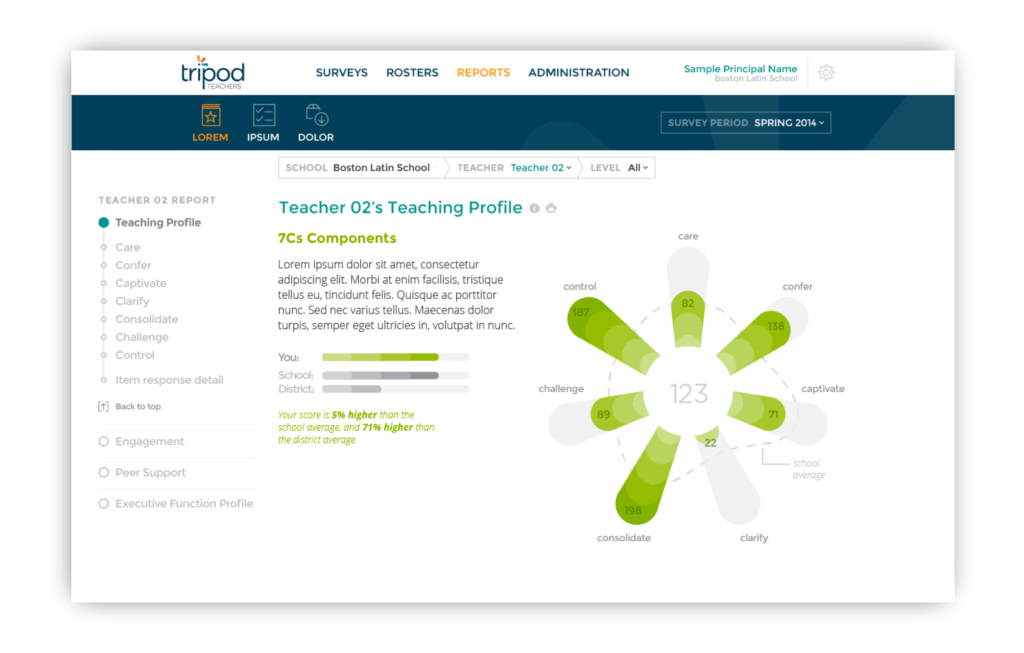 Strong design made this a viable product from the beginning. The new look & feel was widely perceived as friendly and encouraging.
WE BECOME PART OF THE TEAM
Our process functions by way of collaboration. Our involvement with the team combined with our agile processes is what drives success in a project.
The startup dynamic allows us to work closely with everyone from leadership to the development team. We flesh out ideas all together during the discovery phase in order to create a well-rounded project. We understand that every detail and member is important in the process, which is why we engage ourselves as part of the team.
The reason why this works: our early involvement helps new companies develop their ideas, and turn them into an MVP with a sharp UI that gets the attention of prospective customers and investors. As members of the team, we provide a fresh, unbiased set of eyes that help companies define what is feasible vs. what is crucial.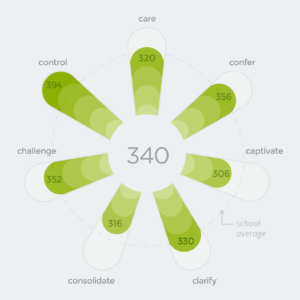 Another reason why this works: We love seeing these companies succeed. We get a great sense of fulfillment knowing that we helped contribute to their success, and that their product is delighting their users. It validates our process when we see these companies achieving the long term goals they set years earlier.
With Tripod, our design goal was to strike a balance between maintaining transparency with the data, and not overwhelming the user in the process. In addition, we needed to seamlessly transition the user experience from paper to digital, all while staying focused on the MVP. To accomplish this, we worked with everyone from co-founders to developers to subject matter experts. Input from the business side and the conceptual side were crucial to mapping out a product that accomplished the necessary goals and fit the business model.
Read the Tripod Case Study to learn more about the final solution.
MAKING THE BEST OF AVAILABLE RESOURCES
While this may not always be the case, many startups operate with limited resources. Staff, budget, time, or other factors can be major constraints for a project. This can be a blessing in disguise. Limited resources encourage prioritization. Constraints have a way of forcing companies to whittle down what they want to pitch to their customers or investors in order to gain support.
As consultants, we maintain laser sharp focus on what needs to be done, rather than exploring everything that can be done. We make best use of the allocated resources by pacing the product design and development into smaller, more manageable goals. By working in small increments, there is time between sprints to user test. This ultimately allows them to present a validated concept to investors.
Drawing from external resources is also a proven time-saver. We have a rich network of partners to draw on for other areas of expertise. If a project requires development support, animation/videography, copywriting or other specialized skills, we can bring trusted partners to support the process. With Tripod, we were able to bring in developers to support their process.
To summarize…
Designing with startups is a effective way to apply our agile process. The work is interesting, the pace is fast, and the teams are fun to work with. Our experience in dealing with funding cycles, pitches and pilot apps makes us an asset to growing companies. Because we make it a point to understand their business challenges, we can see the entire project with a broader perspective. We prioritize, iterate, and deliver as part of the team.
Check out another startup case study: Monitoring Health.